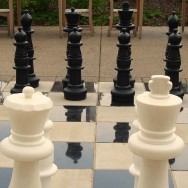 Play: Start, Stick, and Stay at Anything!
I was destroyed in a chess game. It was Halloween 1998 when I saw some friends playing chess over a bench by the courtyard. They asked me if I wanted to play and I said yes! I thought that I was going to beat them through my natural intelligence. Then I lost. The following summer, I was determined to learn how to play. I don't know why, but I was motivated to keep playing (and losing) for about 200 games. That translated to about 60 hours of practice before I could finally win a game! I've played thousands of games since. Today I wonder: what happened that made me start, stick, and stay at it?
Consider that every new challenge we decide to embrace has a learning curve. On the y-axis we have learning (performance) and on the x-axis we have time (experience). Learning difficult skills, like chess, require effort over a long period of time. Luckily, the learning cycle happened accidentally for me, and I was able to learn chess. Understanding these circumstances will help us apply them consciously to embrace our next personal challenge. How did chess happen for me?
It was exciting and supportive (I was having fun with friends).
It was captivating (I felt intrigued and drawn to the game).
It was accessible (I practiced a lot online and met other learners).
So why is it so hard to embrace a new challenge? Conventionally, we tend to approach them hermetically by holding in our emotions. We try not to show our initial struggles, and hope that we won't need to work as hard for it. We also make unreasonable expectations about how we should perform, and consequently make ourselves feel bad for making mistakes. We put ourselves under a tremendous amount of pressure before we even begin! Think about it. Why did we end up associating learning and performing with our sense of self-worth? And when did we stop playing?
In my life, the moments when I have stopped playing, I have stopped learning. And when there's no learning, there's no sense of progress. Why don't we engage in learning more often? Because we often fail to approach learning with an open and positive attitude. We're more likely to give up if we have unreasonable expectations of how we should appear smart, quick, and certain. Thus, we become risk averse and fail to move along our learning curve. On the other hand, what do you think would happen if you allowed yourself to have more fun? When it comes to learning—play—is the glue that makes it all happen. Here's how to do it:
Play to start: 
To begin a new challenge, usually what we do is try to control everything. We don't want to make mistakes, because it's painful. We don't want to take risks, because we might lose. We don't want to work hard, because we might not appear smart. Instead, we let go of these expectations. To the degree that we let go of our initial assumptions and attachment to outcomes, we'll be able to grasp any new challenge. Begin by shifting your focus to what feels good to you:
Why is learning this so desirable to me?
How good will I feel being able to apply t

his? 

How can I reward myself for starting?
Find a way in which you can start by being more playful. Halloween made my whole chess approach fun. Play and you will start! When you play you let go, and you allow yourself to enjoy the process. When you play it's easier to be present, to express yourself, to make mistakes, and learn from them.
Play to stick: 
Playing to stick means you commit to doing it over and over again. And why would you do that? Well—why would you repeat a vacation? Or repeat your favorite song, or your favorite food? Because it makes you feel good. Repetition feels good. Repetition is the mother of difficult learning.
Culturally, being smart means you "study little and ace easily". As you free yourself from this nonsense, you cultivate a positive attitude, and embrace repetition. If you keep playing, you keep practicing. When the practice becomes less than fun, that's when it's time to spice it up again. Not sure how? Ask someone who has been where you are. Life has no final grades. Whatever new adventure you wish to stick to is not a pass/fail test. We form a vision driven by what we care about, we commit to it, and we keep playing.
Play to stay: 
What about the moments when we feel we really need to perform? When we're confronted by high stakes situations we usually panic. This happens because we don't understand time too well (we think of progress linearly) and we obsess with results (we arbitrarily decide when the learning stops). Often, this results in self-doubt. We forget why we started in the first place! We must remember that what we do is something we choose to do from a place of wholeness. The only reasonable expectation from a high stakes situation is to fully show up to do our very best. Our best will be a reflection of where we are with our learning, not our worthiness. If, in spite of this, someone is being overly negative or critical then we can firmly communicate that we are in a learning curve, committed to growth, and need constructive feedback to improve. There is always a learning curve for everyone. The learning will continue far beyond this moment of high stakes. You can't control the outcome, but you can shape your attitude if you:
Assist more, judge less
Mentor more, criticize less
Engage more, spectate less
If we opened up to communicate how we feel and allowed ourselves to be fully present, maybe we would all be having a little more fun. But it takes more than that. Staying means coming back to your why: your inner drives, your dreams, what makes you feel  good, and energized. What's your juicy vision that propels you to move forward? If you don't have one, create one that's compelling. Playing to stay reminds us that it's not about the results, but about our grit to pursue what matters.
Traditionally, we are taught to be ever more competitive. No wonder change is hard! But now, we can disassociate learning as something that's painful or labeling of our self-worth. Sure, it can be uncomfortable at times, but that doesn't mean we stop having fun. We play and we stay because we know it takes time to learn something well, and because eventually we want to contribute back to society. To play means to be human. We play when we learn, laugh, touch, and build meaningful relationships. Is chess still fun to me? You can bet it is—even when I end up with a headache! What's next for you?
Juan F. Diaz
Thank you for stopping by the Insightful Bean! I hope you find the insights enjoyable and the content useful and inspiring. Subscribe to receive future articles straight to your inbox! If you like this post, please like it and share!